In today's world, there are many stereotyped, average, identical things that are produced in huge quantities. That is why "artificial" products, existing in a single copy - say, a panel made of precious stones, are so valued! You can view the entire assortment of amber products on yantar.ua and choose to your liking.
What should you pay attention to when choosing an amber painting?
Beauty and durability are the properties of a good interior accessory. But how to quickly and accurately determine whether this or that work is such? You can be guided by the following criteria:
High-quality details
The picture should be bright, "juicy" and picturesque, with elaborate details and saturated tones (to get the full range of the necessary shades, our masters prepare hardened resin in the oven in advance).


Using amber of three different calibers
The surface of the panel should be "fluffy", slightly uneven and embossed because it is made of amber crumb of three different calibers (small, medium, and large) and whole cabochons drowning in finely selected crushed gems.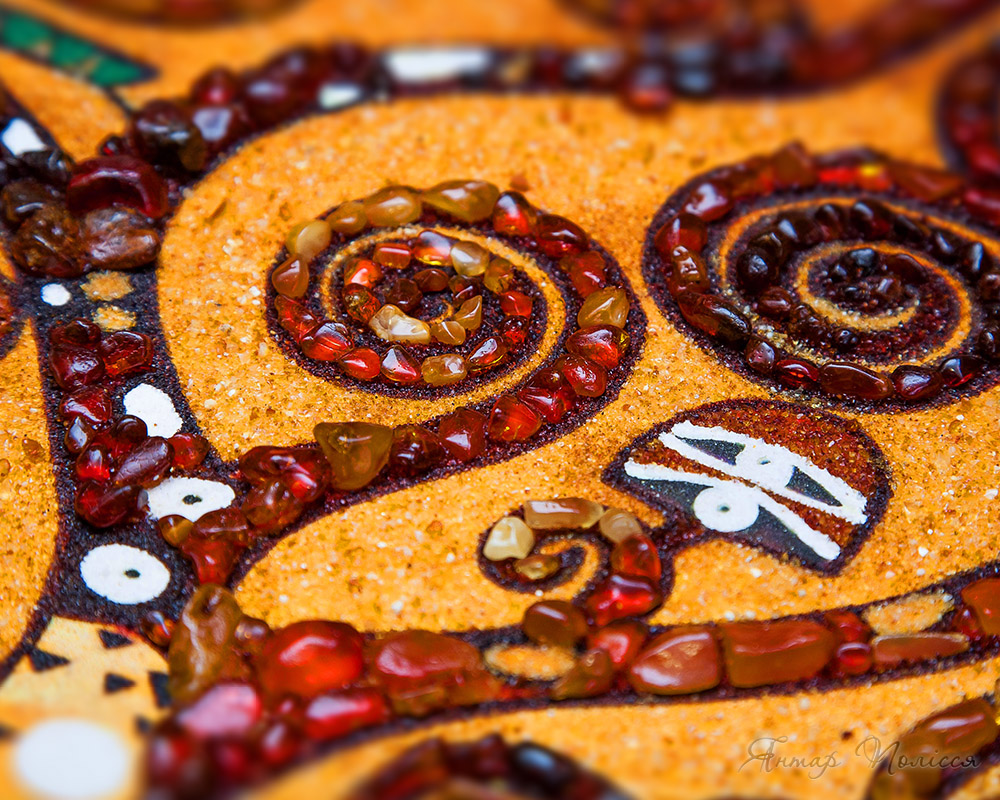 Covering the picture with a protective varnish
It is very important that there is a coating of special varnish on top of all the elements - it does not allow precious stones to fall off, shows color, and also protects against photoaging and oxidation under the influence of oxygen.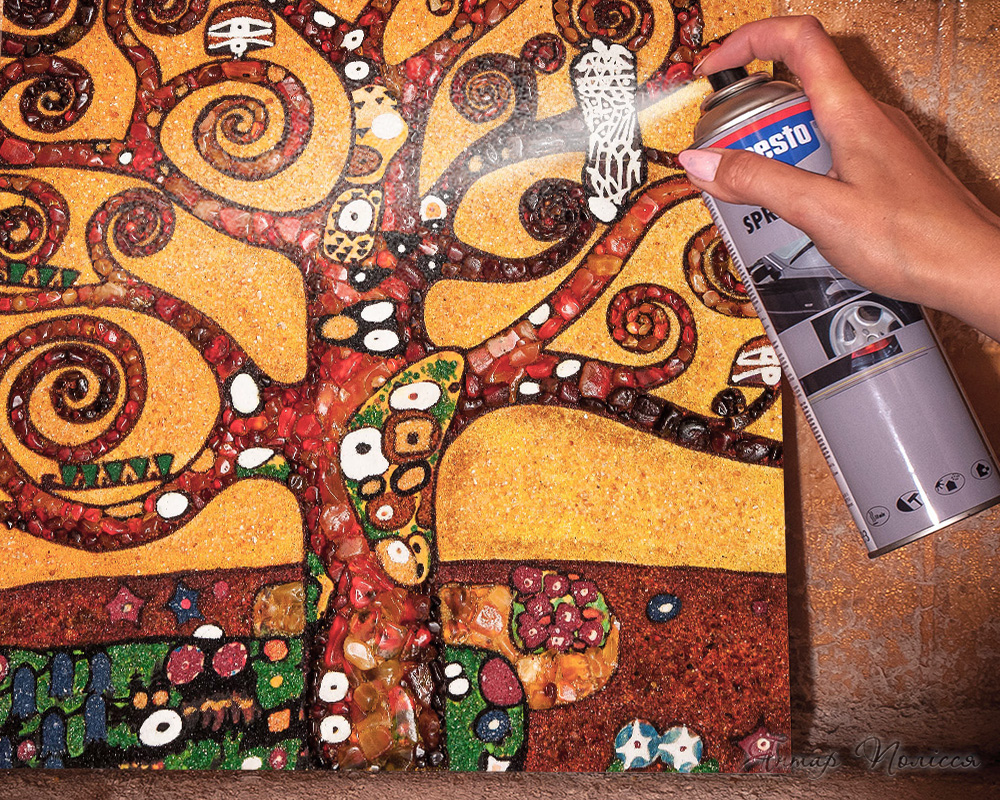 Frames for pictures of our own production
Follow how the frames are made. For example, "Yantar Polissya" uses natural, environmentally friendly materials for this purpose - oak or moraine alder, playing with yellow, carrot, burgundy, and brown colors. The color of the frame fits harmoniously into the image, giving it depth and volume. Wooden slats have natural, smooth outlines: craftsmen from the carpentry shop cut them in such a way as to emphasize the texture of the log and the grain pattern.


High-quality finishing and accessories
How long the picture will last depends not least on the accessories. Our company takes care of this aspect as well! The reverse side of the works is sewn with dense burlap (this is how paintings were decorated in Europe a long time ago), and convenient and reliable hooks for hanging are attached to it, the number of which is calculated based on the weight of the panels.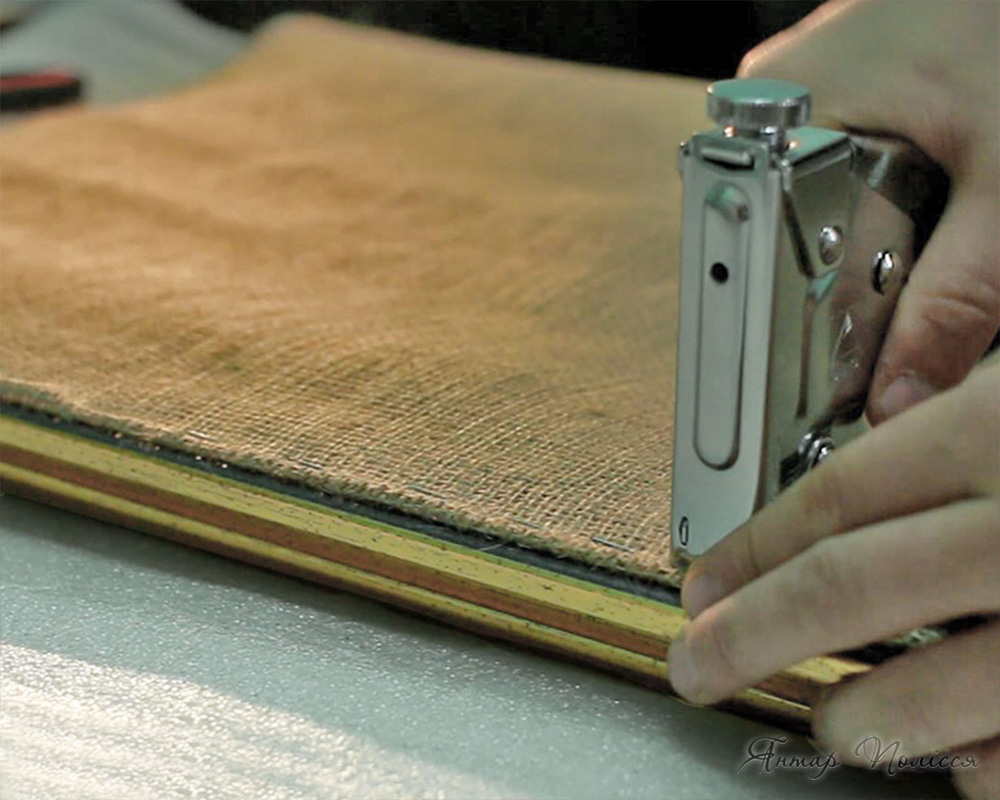 Why should you buy a TM "Yantar Polissya" painting?
Emile Zola claimed: "A work of art is a corner of the universe, seen through the prism of a certain temperament." In other words, only the personal contribution of the creator, the imprint of his character and tastes turns an ordinary image into a real masterpiece.
Our artists are guided by the same principle, each of whom has a unique look and handwriting. Someone creates wonderful panoramas of living nature from solar gems, and someone is better at portraits, and such advantages are always taken into account when making panels. This individual approach has proven itself perfectly - it guarantees that a specific picture is made by the best master of his craft.


How did our company manage to reach such heights? It was founded in 2000, and since then we have been daily improving methods of working with solar stone, testing innovative methods, and developing new production lines. Qualified specialists with arts education and vast practical experience working at the enterprise, constantly experimenting with techniques, palettes, and themes of works. That's why the range of gemstone products is very wide - among them are icons (Catholic and Orthodox), landscapes, and reproductions of paintings by famous painters. And you can also order a panel based on your own sketch or a portrait based on a photo!
"Yantar Polissya" enjoys the well-deserved trust of foreign and domestic partners and customers as an officially registered trademark. There are 12 branded stores in different cities of Ukraine, where you can view and purchase products that are also presented in the online catalog. Thanks to this, the company has become respected and popular on the market - and you should make sure for yourself that good fame is deserved!
An author's work, an icon, a copy of a famous masterpiece, or a product according to your unique project - each amber painting can become a decoration of the house and your favorite decorative accessory. And TM "Yantar Polissya" is always ready to create similar creations for you, taking into account your wishes and anticipating the most daring ideas!
30 May 2023